Posted in Freelanc-ink, Marketing Toolbox – Comments Off

on 8 Questions You Should Ask Yourself Before You Accept To Write For FREE
Free "gigs" are easy to find.
Which prospect will say "no" to the possibility to get a writer to work for them at no cost?
But often writers won't get any benefit from their effort. What's in for us in a free "gig"? Experience certainly isn't enough of a reward.
The truth is: you should only write for free when you can get something back for the effort.
I do write for free, but I won't just write free content for every business or magazine that crosses my path.
There are 8 questions I use to guide myself to discern the real opportunities from the downright exploitation. A writer's time is too precious to waste on work people won't pay out of pure greed.
Keep reading to discover how you can protect yourself from the sharks!
My 8 Anti-Exploitation Questions
1. Will I get a byline with this article/blog post/sales letter/etc.? — The truth is: there is no point in writing for free if you can't get a byline. There's no ROI of the time you spent to research, interview, write, edit and proofread. Don't accept to write for free if you're not provided with a byline.
2. Can I rise my reputation level if I write this? — Reputation makes a writer into a successful writer. Even if a clip doesn't pay you money but rewards you in reputation, it will be worth inserting into your writing portfolio.
3. Can I direct more organic traffic to my website? — Whether your website is only mentioned along with your name in the byline or linked for SEO benefits, you will get a part of your client's traffic redirected to your website. Every time I accept to write for free, I make sure my work (be it a guest post or a cartoon) is not only bylined, but it also links back to my website so I can get targeted traffic for my niche. Nofollow links are fine as well, because even though they won't pass search engine benefits, they are still human-clickable links readers can follow.
4. Will the clip get me in front of the right audience? — When you write for free, you want to give yourself an opportunity to reach your target audience, the only audience you can get relevant feedback from. Ask your free client questions about their readership before you accept to write for them.
5. Will the clip help me in my marketing and prospecting efforts? — Think of free, reputable opportunities as marketing tools to up your chance to find new prospects and, hopefully, land new high paying gigs.
6. Will the clip get me more contacts in my niche? — The person you choose to write for might work in an industry that's relevant for you and may introduce you to one or more of their contacts— who knows? Make sure to learn a bit about their background, scrutiny their website and social media account. Explore your free client's reach and reputation before you make a decision.
7. Can I learn anything new with this opportunity? — Learning is an underrated benefit. Can you expand your knowledge about a niche as you write for free for this individual, association, noprofit and whom else? If you can, don't disdain the project (just make sure it's small and quick enough to get done).
8. Will this free gig eat up too much of my time? — No excuses on this one. If a free project is going to take too long to get done, or will require too much effort on your side, you better pass. Your time is for earning a living.
The Exception?— Yes, There Is One. Just ONE.
Pro bono work. Small projects you want to do because you know they're going to benefit the needy and will make you feel better about yourself, too.

But I don't need to remind you to keep this kind of projects spare throughout the year and only in your leisure time, do I?

What do you do to protect yourself from no-payers?

Image courtesy of Stuart Miles / FreeDigitalPhotos.net

Posted in Freelanc-ink, Thoughts On Writing – Comments Off

on Writing Innocence, Where Have You Gone? — The Adult's Writer's Block (And How To Get Rid Of It)
Read her, please!
Why write for money? I want to write for Love! I want to cry along my characters, be their shade as they walk down the streets of their imaginary world. I want to write because one day, when I'll be older, my children and grandchildren can have a piece of me to keep forever, a piece that will be part of my family's history. Who cares if it doesn't make money. I write because I can, and because it's my dream.
That was me. At 13.
It was 1998, the year I spent rewriting a novel I wrote in primary school, one based on the crossover/remake of the Transformers cartoon series and a Japanese anime called Gordian. A novel I pitched to an important Italian publisher— completely unaware of copyright issues. Actually, I didn't even know what copyright was. I just had fun writing.
That novel got rejected (of course), but it sealed my commitment to getting published, one day.
So I kept writing. If not every day, at least twice a week.
But the entrance into adult age changed something. The magic was lost, even though I didn't want it to. The adult world pressured me to 'do things for money' so much that I started to feel guilty every time I approached a project out of pure genuine interest, either it involved money or not. I began to drop projects based on pay.
Was that the right thing to do?
My writing muse screams 'NO'.
The Fundamental Cause Behind Adult Writer's Block
As a kid, the only thing that would cause me to put writing projects on hold was going to school and getting homework done. Or having to go out with my parents on family trips that didn't involve time for writing. But as an adult, I found myself getting blocked for a different reason (plus a gazillion smaller silly ones):
Am I really good enough to even begin this project?
Or put in other terms: What right do I have – me, a lowly writer whose English is not even her first language – to submit my stupid ideas to important publications?
The 'important publication' could be a blog, an e-zine, a newsletter, a print magazine, a short-story anthology. Anything. Even the lowest paying small circulation magazine or blog would appear too important in my eyes.
Where did my writing innocence go? Why am I unable to 'just write' without having crazy internal editors get in the way? There was no editor who could stop me at 13. There are way too many to deal with now.
Recover That Writing Innocence Before It's Too Late
If you read this far, you might be on my same boat. You need to recover that writing innocence from your childhood if you want to further your writing career and be successful at what you do. There's more than one way to subject yourself to 'writing therapy', but remember that no method will work until you make it a commitment to heal fast and get your writing muse back.

1. Pen and paper in hand, close your eyes and write. Who cares if you overwrite your own words, go overboard or if your handwriting looks more like a kindergarten kid's first attempt at writing? What counts is that you hiss your consciousness and just follow the trail of your thoughts. When you are done, put pen and paper away (without looking at it) and do something else. Later, grab your paper and edit. There might be food for more than one article, short-story or newsletter inside those 'crappy' lines.

2. Write wherever your heart commands. If that's the white border of your daily newspaper, that's fine. If that's the back of your grocery shop receipt, go for it. If that's the palm of your own hand, it's no problem (just make sure you can wash it away!). Don't make time for writing, just write. It can be as urgent as food when you're starving.

3. Don't wait for an editor's response. Write away! I realize this goes against all the advice you've heard about focusing your efforts on tasks at hand when freelance writing, but sometimes waiting means losing the momentum and the joy for the piece you want to write. So, don't wait for your editor's 'go ahead' to start writing! As freelance writer Christina Katz says in her her book Writer Mama, prewrite your features! And not just those, but fillers, columns and blog posts, too. That is how the post you're reading was written— straight from the heart. And refined, edited later.

4. Use a tape or mp3 recorder (or your cellphone recording function) to note down your ideas. This is no new advice for freelance writers, but it turns out incredibly helpful when you want to get rid of your internal editors and just let your writing muse speak. Free! You'll have time to put your vocal notes in order later.

5. Make (or leave) your notepads as messy as you can. Trying to write orderly when you're noting down ideas and outlines only hinders your ability to write freely and it freezes any new idea twist or slant you had been working on inside your mind. Keep your innocence alive, let it make your heart pound!

And be a child again. You need it. :)

What do you do to feed your writing innocence?

Image credit mpclemens via Compfight

Posted in Freelanc-ink, Time Management – Comments Off

on 5 Freelance Writing Pearls From "Kung Fu Panda"
A few weeks ago I watched Kung Fu Panda on DVD with my sister. It's animation, good to kill the boredom and apathy sick days bring along.
What I didn't expect – even after watching it at least a dozen times – was the amount of precious advice it carried and how wonderfully it could be applied to freelance writing.
Master Shifu's 5 Lessons
At a certain point in the movie, Master Shifu, the martial arts trainer, observes his mentees' performance and tells them what skills they need to hone to master their Kung Fu: five skills that freelance writers need to sharpen, too.

Ferocity. Be a little aggressive when you pitch. No, I don't mean you have to be arrogant, insistent or bossy with your clients, but you need to be clear and to the point about yourself and your value: don't be submissive if your client insists that you work at a lower rate or asks for too many extra edits or wants more material to be covered. Fight for yourself.

Speed. The faster you type, the more work you can chime in. It's important to develop a decent typing speed, but there are other speeds we can improve too: research time, interview time (when possible), planning time, focus time. The more efficient you get, the more money you earn, the faster you'll scale up your earnings.

Height. Do you need to increase your rates? Perhaps you do. You can always earn more, and the best way to do this is to keep up to date with new markets (Google Alerts, Writers Markets, etc.) and to compile a list of top paying clients to pitch.

Subtlety. Be subtle. Not in the malicious sense (that's no way professional!) or physically (that's your personal choice), rather mentally: clean your mind from all the clutter and you'll see your work taking on a different, brighter life. When I free my mind from thoughts and anxiety (i.e. that "I have more articles to write later. Aargh!"), each piece automatically ups in quality and time optimization.

Humility. Master Shifu tells his Panda mentee that "the mark of a true hero is humility". Be proactive in your business, but know when to stop and listen, too. Read other writers' work, attend webinars and conferences, engage in writers' forums and learn something new. Also, be supportive of readers' feedback and writers' advice. Being humble doesn't mean subjugating yourself to others' will, but to take all the possible good from the feedback you receive. It will help you grow as a professional — and as a person, too.

Image by Adrien Sifre (Creative Commons)

What writing lessons did you recently learn from animation films and movies?

Share your pearls. :)

Posted in Freelanc-ink, Time Management – Comments Off

on 5 Stress-Free Ways To Continue Writing Even When You're Sick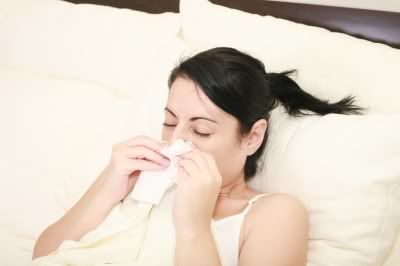 To get sick on deadline days is a nightmare for every freelance writer. It mines your ability to finish an assignment, or to work on the next one in line.
Yes, you're sick and weak and your mind won't focus enough to let you write a word after another.
Do you have to stop everything and just rest until you're fully recovered?
Well— no. You need to rest and sleep and relax while you're sick, but there are simple ways to continue writing that won't drain that little energy from your body.
1. Take care of yourself. Sleep, rest, take medicines, breath some fresh air every morning in your sick days. Relax above all. Then, when you feel you need to do something to ease the boredom— write. Get in touch with your editor and ask for a deadline extension, write down a few ideas for your assignment as they come to your mind, type slowly or —if staring at the screen gives you nauseas and headaches— write on paper. Keep a notepad and a pen on your bedside table for when you feel the urge to scribble down ideas.
2. Write after a good nap. Your body works hard to fix things while you sleep and usually, when you wake up, you'll feel a lot better. Get a good drink (water or tea) and write a little, until your body commands you lay down again. Write as much as your mind and body allow you to, but don't overdo it.
3. Update your blog. Here, I'm updating this blog staying curled up in bed with influenza hitting my poor brain and tummy. I have no urgent assignments but a guest post and a sponsored review, so I can warm up and liberate my writing spirits with a new blog post that I know will help other writers in my same conditions. It makes me feel so much better!
4. Setup a recovery plan. Of course you can't write full speed when you're sick, but what you can do is setup a recovery plan for when sick days are over: which assignments need more research? Which need to be made top priority? Is there anything you can postpone?
5. Plan day by day. You don't know when you'll feel better or be fully recovered, so my advice here is to plan your writing schedule day by day: setup a number of mini-tasks according to the energies you have on a certain day, then add more as you feel better. Just don't fill your plate while you're sick: your top priority is healing!
How do you handle freelance writing when your sick?  Share your experiences! :)