Let's speak honestly.
Do you really believe the content mills' slogan that you'll be "working with ease in the comfort of your home"?
Not all that sparkles is gold, you know.
There are content mills and low paying clients that will rob you of the best of your energies and motivation.
And then there are content mills and low paying clients that can help you get a good quick start.
But the bare truth is: you can't make a living out of content mills and low paying clients.
You need to MOVE ON.
To move on, get ready to catch good opportunities. On the fly! 😉
Here's a 5-page full color comic book to entertain you and inspire you!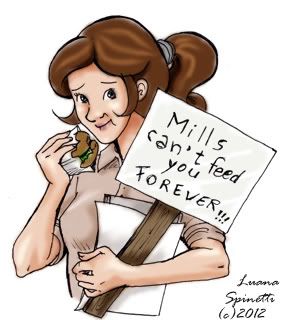 The 5-page comic illustrates:
A new freelance writer filled with hope and some low self-esteem
The dangers mill work poses to an healthy work-life balance
What it means to catch a good opportunity on the fly
How good friends and good networking can advance your career!
Oh, did I tell you already that the comic book is FREE? 🙂
Subscribe and grab your copy below!
Already subscribed but missed a freebie? Don't worry! I routinely promote my free goodies, you will get a chance to grab a copy. Can't wait? Email me at luana@thepenthinker.com.
Luana is a wise woman.  You'd do well to heed her advice. I've watched her personally burn out trying to juggle multiple projects at a time, and while she never falters, never drops anything and always manages to open her hand for the next project coming down out of the air, it has taken a toll on her. She wrote this free web comic as a way to help you figure out how to balance and budget your time, your work load, your whole life, if you choose to look at it that way! I can attest to the fact that what she says in the web comic works; I know.  I've followed Luana's words of wisdom and found myself on the other side, a much happier, more successful artist.  (This doesn't just apply to writers, ANYONE can benefit from the tips she tucked away in her lovely drawings.) —-Mandi Lily L. Pope